Crispy little potato gratins
Crispy little potato gratins
Prep 25 mins | Cook 45 mins | Makes 12
6 (about 250 g each) brushed potatoes
olive oil spray
¾ cup grated parmesan cheese
Step 1 Preheat oven to 200°C fan-forced. Line a large baking tray with baking paper.
Step 2 Peel potatoes, rinse and pat dry. Halve each potato lengthways. Working with half a potato at a time, cut lengthways into very thin slices. Spray each potato slice with oil and sprinkle with cheese. Stack sliced potato, starting with the largest slice for the base (to the smallest for the top), onto the prepared pan. Insert a small skewer into the centre of each potato stack to secure. Roast for 40-45 minutes until golden and crisp and serve.
Good for you ...
Potatoes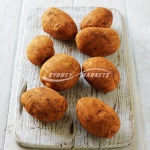 A source of vitamin C, a vitamin that contributes to the normal structure and function of blood vessels throughout the body.
A source of dietary fibre, especially if the skin is left on. Dietary fibre contributes to normal laxation. The skin of potatoes also helps retain vitamins during cooking.
Provides potassium which may help balance sodium from salty foods.