Creamy English spinach, mushroom & cheese pasta bake
Creamy English spinach, mushroom & cheese pasta bake
Preparation 15 mins | Cooking 30 mins | Serves 4-6
400g rigatoni or penne pasta
1 tbs olive oil
1 small brown onion, finely chopped
2 garlic cloves, crushed
250g small cup mushrooms, sliced
1 cup reduced fat cream
1 bunch English spinach, trimmed and roughly chopped
(about 250g trimmed leaves)
2 cups grated tasty cheese
180g tub bocconcini cheese, drained and roughly torn
¼ cup toasted pine nuts, to serve
Step 1 Preheat oven to 200°C/180°C fan-forced. Cook pasta in a large saucepan of boiling water following packet directions.
Step 2 Meanwhile, heat oil in a large frying pan over medium heat. Add onion, garlic and mushrooms and cook, stirring often, for 4-5 minutes until softened.
Step 3 Reduce heat and stir in cream. Bring to a simmer. Gradually add spinach to the pan (it does not have to fully wilt) and toss through cheese. Season with salt and pepper to taste.
Step 4 Drain pasta, reserving ½ cup cooking water and return to the saucepan. Add spinach mixture and reserved cooking water mixture and toss to combine. Spoon mixture into a greased 10-cup capacity (about 5cm deep) baking dish. Scatter with bocconcini. Bake for 20 minutes or until hot and bubbling. Scatter with pine nuts and serve.
Good for you ...
English Spinach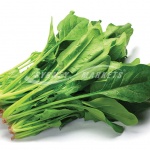 Although the iron in spinach is not well absorbed, its high content of vitamins C, E, beta carotene (converts to vitamin A in the body), niacin (B3), folate, vitamin B6 plus its magnesium and potassium make it one of the most valuable vegetables.
Spinach is rich in an antioxidant called lutein, which is important for eye health.
Spinach is an excellent source of dietary fibre, which keeps the intestine functioning normally.