Creamy celery & blue cheese soup
Creamy celery & blue cheese soup
Prep 15 mins | Cook 45 mins | Serves 4
1 tbs olive oil
1 large brown onion, chopped
2 garlic cloves, finely chopped
600g celery stems, trimmed*
500g Desiree potatoes, peeled and diced
4 cups chicken stock
1⁄4 cup thickened light cream
60g soft blue cheese (like Castello),
Thick wholegrain toast, to serve
*You'll need about 1 standard bunch of celery
Step 1 Heat oil in a large saucepan over medium heat. Add onion and garlic and cook, stirring often, for 3 minutes. Add celery and potatoes and cook, stirring often, for 5 minutes.
Step 2 Add stock, cover and bring to the boil. Reduce heat and simmer for 25-30 minutes until tender. Set aside to cool slightly.
Step 3 Puree soup until smooth. In batches, push mixture through a fine sieve over a large bowl and discard stringy pieces in sieve. Return soup to pan.
Step 4 Stir in cream and heat over medium heat until hot (do not boil). Crumble 50g blue cheese into soup and season with salt and pepper. Stir until cheese melts. Ladle into serving bowls and serve with remaining crumbled blue cheese and thick wholegrain toast.
Good for you ...
Celery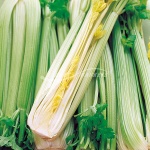 A source of vitamin C, one of the vitamins that contributes to a healthy immune system.
Provides potassium, which may help balance the effects of sodium from salt.
The distinctive fresh smell of celery comes from compounds called phthalides.