Creamy celeriac, leek & smoked fish chowder
Creamy celeriac, leek & smoked fish chowder
Preparation 25 mins | Cooking 40 mins | Serves 4
2 tbs olive oil
2 leeks (white part only), trimmed, halved lengthways, washed and thinly sliced
700g bulb celeriac, trimmed, peeled and roughly chopped*
500g Desiree potatoes, peeled and roughly chopped
3 garlic cloves, crushed
6 cups fish or chicken stock
1/3 cup light thickened cream + extra to serve
150g pkt hot-smoked fish fillets (like mackerel or salmon), bone and skin removed and flesh flaked
2 tbs finely chopped chives + extra to serve
Toasted sourdough bread, to serve
Step 1 Heat oil in a large saucepan over medium heat. Add leeks and cook, stirring occasionally, for 4-5 minutes until softened. Add celeriac, potatoes and garlic and cook, stirring occasionally, for 5 minutes until vegetables begin to soften.
Step 2 Stir in stock, cover and bring to the boil. Reduce heat and gently simmer, stirring occasionally, for 20-25 minutes until vegetables are tender.
Step 3 Using a hand-held blender, blend soup until smooth. Add cream and half of the smoked fish. Gently simmer over low heat for 5 minutes. Stir through chives. Season with salt and pepper to taste.
Step 4 Ladle soup into bowls. Drizzle with a little extra cream. Top with remaining flaked fish and extra chives. Serve with toasted sourdough bread.
*Note, celeriac discolours quickly so place the cut celeriac into a bowl of water with a good squeeze of lemon juice as you prepare it.
Good for you ...
Celeriac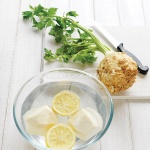 Comes top of the class for its high dietary fibre content. This helps the intestine function normally.
A source of potassium, which can help balance the salt content in our daily diets.
Provides vitamins, including riboflavin (vitamin B2) which contributes to normal skin structure and vitamin C which assists the normal functioning of the immune system.