Creamy cauliflower & chestnut soup
Creamy cauliflower & chestnut soup
Prep 40 mins | Cook 50 mins | Serves 6
500g chestnuts
2 tbs olive oil
2 leeks, trimmed, halved lengthways and thinly sliced
3 garlic cloves, finely chopped
750g cauliflower florets (about 1 medium cauliflower)
6 cups chicken stock
Reduced fat sour cream and chopped chives, to serve
Step 1 Halve chestnuts lengthways through the middle. Place in medium saucepan, cover with cold water and bring to the boil. Gently boil for 15-20 minutes until tender and flesh peels away easily from the shell. Drain. While still warm, remove shell and the papery thin skin. Set peeled chestnuts aside.
Step 2 Heat oil in a large saucepan over medium heat. Add leeks and garlic and cook, stirring often, for 4-5 minutes or until leeks soften. Add cauliflower and cook, stirring for 3 minutes. Add stock, cover and bring to the boil. Reduce heat, partially cover and simmer, stirring occasionally, for 20 minutes or until cauliflower is tender.
Step 3 Reserve and roughly chop ½ cup of the chestnuts. Add remaining chestnuts to soup. Cook for 2 minutes. Using a stick blender, blend soup until smooth. Gently heat until hot. Season with salt and pepper to taste. Ladle soup into serving bowls. Top with sour cream, chopped reserved chestnuts and chives. Serve.
Good for you ...
Chestnut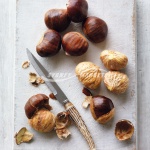 A source of vitamin C which contributes to the normal functioning of the body's immune system.
Provides some dietary fibre which helps the intestine function normally.
A source of potassium which may help balance the sodium from salt.