Creamy carrot & chickpea soup
Creamy carrot & chickpea soup
Prep 15 mins | Cook 1 hr | Serves 4-6
2 tbs olive oil
1 medium brown onion, finely chopped
2 garlic cloves, finely chopped
750g carrots, peeled and roughly chopped
6 cups chicken stock
400g can chickpeas, drained and rinsed
Reduced fat sour cream and wholegrain toast, to serve
Step 1 Heat oil in a large saucepan over medium heat. Add onion and cook, stirring occasionally, for 3-4 minutes until tender. Add garlic and carrots and cook, stirring occasionally, for 5 minutes.
Step 2 Stir in stock and chickpeas. Cover and bring to the boil. Reduce heat, partially cover and simmer, stirring occasionally, for 45-50 minutes until vegetables are very tender.
Step 3 Using a stick blender, blend soup until smooth. Stir through cream. Gently heat until hot. Season with salt and pepper to taste. Ladle into serving bowls, top with a dollop of sour cream and serve with wholegrain toast.
Good for you ...
Carrots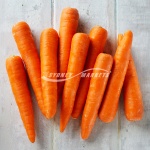 The old saying that carrots help you see in the dark is due to their high content of beta carotene, which the body converts to vitamin A and uses for normal vision.
A good source of vitamin C, one of the vitamins needed for the normal functioning of the immune system.
Provide dietary fibre, whether raw or cooked. Dietary fibre helps keep the intestine healthy.