Creamy broccoli, mushroom & chicken bake
Creamy broccoli, mushroom & chicken bake
Prep 20 mins | Cook 50 mins | Serves 4
500g broccoli, cut into small florets and stalks finely chopped
6 (about 1kg) free-range chicken thigh fillets, trimmed
150g button mushrooms, sliced
2 green onions (shallots), trimmed and thinly sliced
75g butter, chopped (check)
1/3 cup plain flour
2 cups milk (not skim)
1 cup reduced salt chicken stock
1½ cups grated cheddar cheese
1 cup fresh coarse torn breadcrumbs
Step 1 Bring a medium saucepan of water to the boil over high heat. Add broccoli and cook for 1 minute until vibrant. Drain, refresh broccoli in cold water and set aside to dry.
Step 2 Preheat oven to 180°C/160°C fan-forced. Arrange broccoli, chicken, mushrooms and green onions in a large (about 8-10 cup) greased baking pan. Set aside.
Step 3 Dry the saucepan used for the broccoli. Add butter to pan and heat over medium-low heat until bubbling. Add garlic and cook for 30 seconds. Add flour and using a small whisk, stir constantly for 2 minutes until frothy. Decrease heat to low, and gradually whisk in milk and stock. Cook, stirring, for 4-5 minutes until sauce boils and thickens. Stir in 1 cup cheese. Season to taste.
Step 4 Pour cheese sauce over broccoli mixture. Scatter over breadcrumbs and remaining ½ cup cheese. Bake for 35-40 minutes or until chicken is just cooked through and sauce is bubbling and serve.
Good for you ...
Broccoli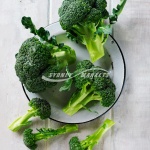 Top of the class for its content of many nutrients, including iron (contributes to red blood cells), potassium (helps balance the sodium from salt) and vitamins, including vitamin C (necessary for normal blood vessel structure and function and contributes to collagen formation in teeth and gums.