Country-style tomato & fennel salad
Country-style tomato & fennel salad
Preparation 20 mins | Serves 6 as a side dish
This salad is a great side dish to serve with chicken, pork or ham.
1 small red onion, halved and very finely sliced
1/2 tsp sea salt flakes
1 kg mixed tomatoes*
1 medium or 2 baby fennel bulbs, trimmed, halved lengthways and finely shaved
2 tbs mini capers, drained and rinsed
2 tbs extra virgin olive oil
1 tbs red wine vinegar
½ cup small basil leaves
¼ cup toasted pine nuts
Step 1 Place onion into a large mixing bowl. Sprinkle with sea salt and toss to combine. Set aside for 10 minutes. Drain onion, squeezing out excess liquid then return to the bowl.
Step 2 Slice larger tomatoes and halve smaller tomatoes. Add tomatoes to the onion. Add fennel and capers. Drizzle with oil and vinegar. Season with pepper. Toss through basil and pine nuts and serve.
*We used a mix of small and large heirloom tomatoes, tomato medley and kumatoes.
Good for you ...
Medley Tomatoes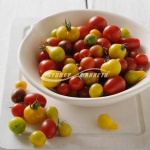 A very good source of vitamin C which contributes to the normal functioning of the body's immune system.
Provides potassium which may help balance the sodium from salt.
A source of dietary fibre which helps the normal function of the intestine.
Tomatoes are the richest food source of lycopene, a member of the carotenoid family. Research suggests that lycopene may play a role in the normal health of the prostate gland. The redder the tomato, the higher its lycopene content. Rich red tomatoes are also a source of beta carotene which is converted into vitamin A in the body and is needed for vision.