Coriander barbecued chicken
Coriander barbecued chicken
Prep 20 mins | Cook 15 mins | Serves 4
1 cup firmly-packed coriander roots, stems and leaves*
3 garlic cloves, chopped
1 tsp ground turmeric
2 tbs lime juice
2 tbs peanut or rice bran oil
1⁄2 cup reduced fat coconut milk
8 (about 1 kg) chicken thigh fillets, trimmed
Steamed jasmine rice, lime wedges and a leafy green salad to serve
*You will need about 1 bunch coriander, wash well and gently scrub the roots then pat dry before chopping.
Step 1 To make coriander marinade, place coriander, garlic, turmeric, lime juice and oil in a food processor and process to form a paste. Add coconut milk and process until combined.
Step 2 Score the thickest part of each chicken thigh twice. Place in a large shallow dish. Coat chicken with coriander marinade. Refrigerate for 4 hours or overnight.
Step 3 Preheat a greased barbecue grill or char-grill over medium heat. Barbecue or char-grill chicken for 12–15 minutes, turning occasionally, until cooked through. Serve chicken with steamed jasmine rice, lime wedges and a leafy green salad.
Good for you ...
Coriander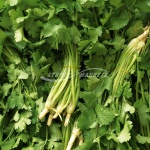 Contains dietary fibre, vitamin C and iron. The quantities are likely to be significant if you consume a lot of coriander, as may occur with something like coriander pesto.