Coleslaw with craisins
Prep about 20 mins | Serves 4-6
1⁄2 savoy cabbage, trimmed and finely shredded*
1 carrot, peeled and coarsely grated
2 green onions (shallots), trimmed and thinly sliced
1⁄3 cup craisins, chopped
1⁄2 cup reduced fat coleslaw dressing
Salt and ground black pepper
*You will require about 4 cups shredded cabbage.
Step 1 Place cabbage, carrot, green onions and craisins in a bowl. Drizzle with coleslaw dressing and season with salt and pepper. Toss to combine and serve.
Serving suggestions
Serve on a burger or with a barbecued sausage on a bread roll.
Serve in a bread wrap with shaved ham or chicken.
Serve with fish and chips.
Good for you ...
Savoy Cabbage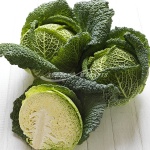 An excellent source of vitamin C, which contributes to the normal functioning of our immune system.
Provides folate, one of the B group vitamins that is needed for normal formation of blood cells.
A source of dietary fibre, which helps the intestine to function normally and keep us regular.
The darker the leaves, the higher the vitamin content.