Coconut curry veggie & oyster mushroom ramen
Coconut curry veggie & oyster mushroom ramen
Prep 20 mins | Cook 30 mins | Serves 4
180g dried ramen noodles
1 tbs peanut or vegetable oil
2 garlic cloves, finely chopped
1 stem lemongrass (white part only), crushed and finely chopped
½ tsp ground turmeric
4 green onions (shallots), trimmed and thinly sliced
¼ cup store-bought green curry paste
400g can coconut milk
2 chokos, peeled and roughly chopped
2 cups vegetable or chicken stock
150g oyster mushrooms, thickly slice larger mushrooms
1 bunch English spinach (about 300g trimmed leaves), roughly chopped
sliced red chilli, Thai basil leaves, chopped roasted peanuts and lime wedges, to serve
Step 1 Cook noodles following packet directions. Drain and set aside.
Step 2 Heat oil in a large deep frying pan over medium heat. Add garlic, lemongrass, turmeric and green onions and cook, stirring for 1-2 minutes until fragrant. Stir in curry paste and cook for 1 minute. Skim the thick cream from the top of the coconut milk and add to pan. Cook, stirring for 1 minute. Add chokos and cook for 3 minutes.
Step 3 Stir in the remaining coconut milk and stock. Gently simmer, stirring occasionally, over medium-low heat for 15 minutes or until chokos are tender. Toss through oyster mushrooms and spinach and cook until spinach wilts.
Step 4 Toss through noodles and heat until hot. Spoon into serving bowls and top with chilli, Thai basil leaves and chopped roasted peanuts and serve with lime wedges.
Good for you ...
Choko (Choyate)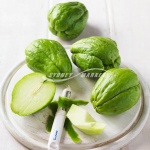 A source of vitamin C which contributes to collagen for the normal structure of cartilage, bones, teeth, gums and skin.
A source of folate, a B vitamin that is necessary for normal cell division and formation of blood cells.
A source of dietary fibre, that contributes to regular laxation.