Choc-dipped frozen bananas
Choc-dipped frozen bananas
Prep 15 mins + chilling time | Cook 1 mins | Makes 6
3 just-ripe large bananas
250g pkt milk chocolate melts
For sprinkling - choose from:
Trail seed & nut mix
Yoghurt coated craisins
Shaved coconut
Chopped unsalted peanuts
Step 1 Line a baking tray with baking paper and place in the freezer to chill. Peel and cut each banana in half. Insert a paddle-pop stick into the cut-end. Place bananas onto the tray and freeze for 1 hour.
Step 2 Place melts into a heatproof bowl. Microwave on medium 50% power, in short bursts of 20-30 seconds and stirring with a metal spoon, until melted. Pour melted chocolate into a tall glass.
Step 3 Dip each banana into the melted chocolate to coat. Place onto the chilled prepared tray. Sprinkle with your choice of toppings. Refrigerate until set and serve.
Note: Once the chocolate has set the bananas can be wrapped individually in plastic and frozen. Use within 2 weeks.
Good for you ...
Bananas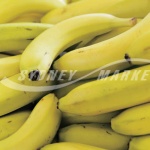 A good source of vitamins B6 and folate. Vitamin B6 is needed for the body's nervous system and folate is important for making red blood cells. A source of antioxidant vitamins E and C (vitamin C also helps protect us against infection). A good source of dietary fibre and also provides potassium.