Chinese roasted Dutch carrots & chicken
Chinese roasted Dutch carrots & chicken
Preparation 20 mins | Cooking 50 mins | Serves 4
4 (about 350g each) chicken marylands
2 bunches Dutch carrots, washed, trimmed and peeled
5 green onions (shallots), cut into 5cm pieces
2 bunches baby bok choy, trimmed and halved lengthways
Steamed jasmine rice, to serve
Chinese roasting sauce:
1/3 cup reduced salt soy sauce
1/3 cup Chinese cooking wine
1/3 cup brown sugar
2 garlic cloves, finely chopped
2 tsp sesame oil
3 star anise
Step 1 Preheat oven to 200°C/180°C fan-forced. To make Chinese roasting sauce, combine soy sauce, cooking wine, brown sugar, garlic and sesame oil in a jug. Whisk until well combined. Pour mixture in a large heavy-based deep roasting pan. Add star anise to the pan.
Step 2 Score the chicken 3-4 times in the thickest parts. Add chicken to pan and turn to coat in soy mixture. Stand for 10 minutes. Roast chicken for 20 minutes.
Step 3 Add carrots and green onions to pan and toss to coat in roasting sauce. Roast, brushing with pan juices once, for 30 minutes or until chicken is cooked through.
Step 4 Just before serving, steam boy choy over a pan of boiling water for 1-2 minutes until vibrant. Serve with roasted carrots and chicken and steamed jasmine rice.
Good for you ...
Dutch Carrots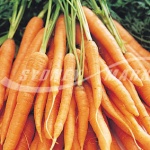 The old saying that carrots help you see in the dark is due to their high content of beta carotene, which the body converts to vitamin A and uses for normal vision.
A good source of vitamin C, one of the vitamins needed for the normal functioning of the immune system.
Provide dietary fibre, whether raw or cooked. Dietary fibre helps keep the intestine healthy.