Chilli chestnut, Asian greens & tofu stir-fry
Chilli chestnut, Asian greens & tofu stir-fry
Prep 30 mins | Cook 25 mins | Serves 4
This stir-fry is great for a healthy vegetarian lunch or dinner.
300g fresh chestnuts
500g fresh rice noodles
1⁄3 cup oyster sauce
1 tsp sesame oil
1 bunch baby bok choy
1 bunch choy sum
2 tbs peanut or vegetable oil
200g firm tofu, drained and cut into 2-3cm cubes
2 garlic cloves, chopped
2 cm piece ginger, finely chopped
1-2 (to taste) small red bird's eye chillies, deseeded and thinly sliced
Step 1 Cut a small cross into the flat side of the chestnut shell. Plunge prepared chestnuts into a small saucepan of boiling water and gently boil over medium-high heat for 15 minutes or until tender. Drain and cool slightly. While warm, remove outer shell and thin brown skin, then halve chestnuts. Set aside.
Step 2 Place noodles into a heatproof bowl, cover with boiling water and stand for 1 minute until just tender. Drain and separate noodles. Set aside. Combine oyster sauce, sesame oil and 1 tbs boiling water in a jug. Set aside.
Step 3 Trim then slice bok choy and choy sum stems and roughly chop the leaves. Heat a wok over high heat until hot. Add 1 tbs oil and tofu and cook, tossing often, for 2-3 minutes until golden. Remove to a plate. Add remaining 1 tbs oil, garlic, ginger and chilli to wok and stir- fry for 30 seconds. Add bok choy and choy sum stems and stir-fry for 2 minutes. Add bok choy and choy sum leaves and oyster sauce mixture. Stir-fry for 2-3 minutes until leaves wilt. Toss through chestnuts and noodles and serve.
Good for you ...
Chestnut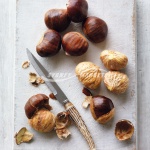 A source of vitamin C which contributes to the normal functioning of the body's immune system.
Provides some dietary fibre which helps the intestine function normally.
A source of potassium which may help balance the sodium from salt.