Chestnut & mushroom sauce
Chestnut & mushroom sauce
Prep 40 mins | Cook 30 mins | Serves 4
This delicious creamy sauce teams well with veal, pork and chicken.
500g chestnuts*
1 tbs butter or margarine
2 tbs olive oil
2 garlic cloves, finely chopped
250g button mushrooms, halved
⅓ cup marsala dessert wine or dry white wine
1 cup reduced fat thickened cream
2 tsp whole grain mustard
1 tbs chopped thyme leaves + extra sprigs to serve
*Some varieties are easier to peel than others, check with your greengrocer. You'll need about 300g peeled chestnuts
Step 1 Preheat oven to 200°C/180°C fan-forced. Using a small sharp knife, cut a cross into the flat-side of each chestnut. Place chestnuts (cut-side up) on a baking tray and bake for 15 to 20 minutes or until the shells split open. Transfer to a clean tea towel, wrap and stand for 4-5 minutes until cool enough to remove chestnuts from shells. Set chestnuts aside.
Step 2 Heat butter and oil in a large non-stick frying pan over medium heat. Add garlic and mushrooms and cook, stirring often, for 4-5 minutes until golden. Toss through chestnuts and cook for 2 minutes. Add marsala or wine and cook until evaporated.
Step 3 Reduce heat and stir in cream, mustard and thyme. Gently simmer for 5 minutes. Season with salt and black pepper to taste.
Good for you ...
Chestnut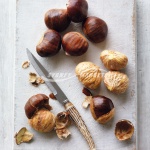 A source of vitamin C which contributes to the normal functioning of the body's immune system.
Provides some dietary fibre which helps the intestine function normally.
A source of potassium which may help balance the sodium from salt.