Cherry tiramisu trifle
Prep 30mins + cooling time | Cook 10 mins | Serves 6
Use a good quality coffee for this recipe.
1 cup caster sugar
1 cup water
1 kg plump cherries, stems removed
315g loaf unsliced Madeira cake, cut into cubes
1⁄2 cup sweetened espresso black coffee, cooled
250g mascarpone
2 cups thick natural yoghurt
100ml Tia Maria liqueur
2 tbs icing sugar
50g coarsely grated dark chocolate, to serve
10–12 fresh whole cherries, to serve
Step 1 Combine sugar and water in a large saucepan. Stir over medium-high heat until sugar dissolves. Add cherries, reduce heat to medium-low and simmer for 5 minutes. Transfer cherries and poaching syrup to a heatproof bowl and chill until cold.
Step 2 To make trifle, place cake into the base of an 8-cup trifle or serving dish. Drizzle with coffee. Beat mascarpone, yoghurt, liqueur and icing sugar in a bowl until smooth and well combined. Spoon half the mascarpone mixture over the cake.
Step 3 Using a slotted spoon, spoon over half the poached cherries. Top with remaining mascarpone mixture then remaining poached cherries. Chill for 3 hours (or longer if desired). Just before serving, drizzle with a little of the poaching syrup. Sprinkle with chocolate, decorate with fresh cherries and serve.
Good for you ...
Cherries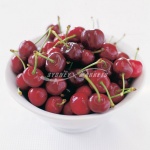 A good source of vitamin C. Among its many functions, vitamin C contributes to collagen which plays a role in healthy gums, teeth, bones, cartilage and skin.
Provide dietary fibre which helps the normal functioning of the intestine.
Cherries contain some antioxidants with the highest quantities found in fruit with darker-coloured flesh