Cherry & coconut ice-cream cake
Cherry & coconut ice-cream cake
Prep 35 mins + chilling time | Cook 12 mins | Serves 10
This fabulous make-ahead dessert is perfect for easy entertaining.
1 cup desiccated coconut
3 litres vanilla ice-cream
4 x 45g Bounty chocolate bars, roughly chopped
500g plump cherries
150ml water
1⁄3 cup caster sugar
3cm strip lemon rind
1 tbs lemon juice
Grated dark chocolate, to serve
Step 1 Preheat oven to 180°C/160°C fan-forced. Spread coconut onto a baking tray lined with baking paper. Bake, tossing every 2 minutes, for4-5 minutes or until pale golden. Transfer to a plate to cool.
Step 2 Remove ice-cream from freezer and set aside until it softens slightly. Meanwhile, line the base and sides of a 23cm spring-form pan with baking paper (spray pan lightly with oil before lining with paper so the paper sticks). Spoon softened ice-cream into a large bowl. Add coconut and chopped Bounty bars. Stir until combined. Spoon mixture into pan. Gently smooth top. Cover with plastic wrap and freeze overnight.
Step 3 To poach cherries, combine water, sugar, lemon rind and juice in a medium saucepan over medium heat. Stir until sugar dissolves then boil for 2 minutes. Reduce heat and add cherries. Cover and simmer for 3-4 minutes until cherries are tender. Remove from heat, and set aside to cool. Place in an airtight container and chill overnight.
Step 4 To serve, transfer ice-cream cake to a serving plate. Stand for 10 minutes or until slightly softened. Top with poached cherries and drizzle with syrup. Sprinkle with chocolate, slice and serve.
Good for you ...
Cherries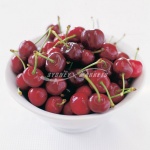 A good source of vitamin C. Among its many functions, vitamin C contributes to collagen which plays a role in healthy gums, teeth, bones, cartilage and skin.
Provide dietary fibre which helps the normal functioning of the intestine.
Cherries contain some antioxidants with the highest quantities found in fruit with darker-coloured flesh