Cheesy veggie bakes
Prep 20 mins | Cook 35 mins | Serves 4
2 carrots, peeled and thickly sliced
300g cauliflower florets (about 1⁄2 small cauliflower)
250g broccoli florets (about 300g head)
2 tbs toasted pine nuts
Cheese Sauce
2 tbs butter
2 tbs plain flour
2 cups reduced fat milk
1⁄2 reduced fat grated tasty cheese
Step 1 Steam or boil carrots and cauliflower for 3 minutes. Add broccoli and steam for a further 3–4 minutes until vegetables are almost tender. Drain. Set aside.
Step 2 To make cheese sauce, melt butter in a medium saucepan over medium heat. Once bubbling, stir in flour and cook for 1 minute. Remove from heat and stir in milk. Return to heat and bring to the boil. Reduce heat and simmer for 3 minutes. Stir in cheese and season with salt and pepper to taste. Set aside.
Step 3 Preheat oven to 180°C/160°C fan-forced. Arrange vegetables in 4 x 1 cup greased ovenproof dishes. Pour over cheese sauce and sprinkle with pine nuts. Bake for 20–25 minutes until sauce is bubbling. Stand for 2 minutes and serve.
Good for you ...
Cauliflower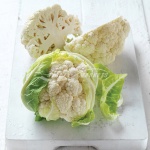 A source of dietary fibre which helps normal functions of the intestine to help keep us regular.
A good source of vitamin K which is one of the many nutrients contributing to normal bone structure.
An excellent source of vitamin C, with 100g supplying well over a full day's requirement. This vitamin contributes to the normal immune function.
A source of folate, a B vitamin that is important for normal blood cells.