Cheesy vegetable & tuna gratin pasta bake
Cheesy vegetable & tuna gratin pasta bake
Prep 20 mins | Cook 30 mins | Serves 6
Spray oil, for greasing
350g dried macaroni pasta
2 carrots, peeled, halved lengthways and thinly sliced
2 celery sticks, diced
300g broccoli, cut into small florets
300g fresh ricotta, crumbled
1⁄2 cup milk
2 cups reduced fat grated cheddar cheese
Salt and ground black pepper
400g can tuna in oil, drained and roughly flaked
4 slices whole grain bread, roughly torn into 1⁄2 cm pieces
2 tbs olive oil
Step 1 Preheat oven to 200°C/180°C fan-forced. Grease 6 x 1-cup heatproof dishes or ramekins with oil spray.
Step 2 Bring a large saucepan of water to the boil over medium-high heat. Add macaroni and cook for 6 minutes. Add vegetables and cook for a further 3-4 minutes until pasta is tender. Drain vegetables and pasta and return to the pan. Add ricotta, milk and cheese. Season with salt and pepper to taste. Cook, stirring occasionally, over low heat for 5 minutes or until cheese begins to melt. Toss through tuna. Spoon mixture into prepared dishes.
Step 3 Combine bread and oil in a bowl. Toss bread to coat in oil. Evenly arrange bread on top of pasta. Bake for 15 minutes until golden and crunchy and serve.
Good for you ...
Broccoli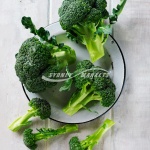 Top of the class for its content of many nutrients, including iron (contributes to red blood cells), potassium (helps balance the sodium from salt) and vitamins, including vitamin C (necessary for normal blood vessel structure and function and contributes to collagen formation in teeth and gums.