Charred broccoli, spinach & pearl barley salad
Charred broccoli, spinach & pearl barley salad
Prep 20 mins | Cook 40 mins | Serves 4
1 tbs olive oil + olive oil spray
¾ cup pearl barley, rinsed
500g broccoli, trimmed and cut into bite-sized florets
2 stems celery, finely chopped
2 green onions (shallots), trimmed and thinly sliced
75g baby spinach leaves
½ cup roasted almonds, chopped
1 tbs extra virgin olive oil
½ small pomegranate, seeds removed
Yoghurt & mint dressing:
½ cup Greek-style natural yoghurt
½ cup mint leaves, finely chopped
1 garlic clove, crushed
2 tbs lemon juice
Step 1 Heat oil in a small saucepan over medium heat. Add pearl barley and toast, cook, stirring, for 4-5 minutes until golden. Add 3 cups water to the pan. Season with salt to taste. Bring to the boil. Reduce heat and gently simmer for 25-30 minutes until pearl barley is tender. Drain and set aside to cool.
Step 2 Meanwhile, bring a saucepan of salted water to the boil over high heat. Plunge broccoli into the pan, cover and bring to the boil. Uncover and cook for 1 minute until broccoli is vibrant. Drain and rinse in cold water until cold. Set aside to drain and dry.
Step 3 Heat a char-grill over medium-high heat. Spray broccoli with oil and char-grill in batches for a few minutes each side until lightly charred. Set aside to cool.
Step 4 Place pearl barley into a large bowl. Add broccoli, celery, green onions, spinach and almonds. Gently toss to combine.
Step 5 To make the yoghurt & mint dressing, combine all ingredients in a bowl. Season with salt and pepper to taste. Mix until well combined.
Step 6 Drizzle salad with extra virgin olive oil. Serve with the yoghurt & mint dressing and a sprinkle of pomegranate seeds.
Good for you ...
Broccoli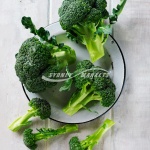 Top of the class for its content of many nutrients, including iron (contributes to red blood cells), potassium (helps balance the sodium from salt) and vitamins, including vitamin C (necessary for normal blood vessel structure and function and contributes to collagen formation in teeth and gums.