Char-grilled zucchini, rocket & prosciutto salad
Char-grilled zucchini, rocket & prosciutto salad
Prep 20 mins | Cook 15 mins | Serves 4
5 zucchini (about 500g), cut diagonally into 1⁄2cm-thick slices
6 yellow button squash (about 200g), cut into 1⁄2cm-thick slices
Olive oil cooking spray
6 thin slices prosciutto
50g baby rocket leaves
1⁄3 cup mint leaves
100g pecorino or parmesan cheese, shaved
2 tbs toasted pine nuts
1⁄3 cup extra virgin olive oil
2 tbs lemon juice
Step 1 Preheat a greased char-grill pan or barbecue over medium heat. Liberally spray zucchini and button squash with oil and season with salt and pepper. Char-grill or barbecue vegetables, in batches, for 1-2 minutes on each side until golden and tender. Set aside to cool on a tray. Char-grill prosciutto for 1 minute on each side. Set aside on paper towel to cool. Once cool, break prosciutto into bite sized pieces.
Step 2 Place rocket, barbecued vegetables, mint, prosciutto, cheese and pine nuts into a large bowl. Combine extra virgin olive oil and lemon juice in a screw top jar. Shake until combined. Drizzle over salad and season with salt and pepper to taste. Gently toss to combine and serve.
Good for you ...
Zucchini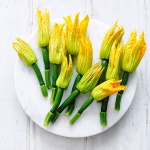 Zucchini are a source of vitamin C. This vitamin is important for healthy gums and also helps the body fight infections. Dark green varieties contribute some beta carotene, an antioxidant pigment which the body can convert to vitamin A.