Char-grilled peaches with coconut sour cream & honey
Char-grilled peaches with coconut sour cream & honey
Preparation 10 mins | Cooking 5-6 mins | Serves 4
Olive oil spray
1/4 cup brown sugar
6 plump just-ripe peaches, halved and stones removed
½ cup coconut sour cream*
Honey, for drizzling
Step 1 Cut a sheet of baking paper to fit the base of a char-grill pan. Lightly spray or brush the pan with oil to grease. Press the baking paper into the pan and preheat on medium-high heat.
Step 2 Place sugar onto a plate. Press the cut-side of peaches into the sugar to lightly coat. Place peaches sugar-side-down into the pan and cook for 2-3 minutes until golden and charred then turn and cook for a further 1 minute. Transfer peaches to a board or platter and set aside to cool slightly.
Step 3 Serve peaches with a coconut sour cream and honey.
*Note; coconut sour cream is a plant-based vegan product. Use sour cream, natural Greek-style yoghurt or mascarpone as a dairy alternative.
Good for you ...
Yellow Peaches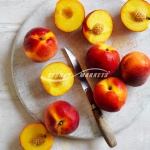 A source of vitamin C, which contributes to the normal functioning of the body's immune system.
A source of dietary fibre which contributes to the normal function of the intestine.
Peaches have a low GI (42) which means their natural sugars are broken down slowly for absorption into the bloodstream.
Peaches with yellow flesh have some beta-carotene which the body converts to vitamin A.