Char-grilled nectarine, rocket & leg ham toasts
Char-grilled nectarine, rocket & leg ham toasts
Prep 15 mins | Cook 10 mins | Serves 6
This is a great way to use leftover Christmas ham.
4 ripe plump nectarines
Olive oil cooking spray
8 slices sourdough bread
2 garlic cloves, halved lengthways
350g sliced leg ham
50g baby rocket leaves
Caramelised balsamic dressing:
1 tbs caramelised balsamic vinegar
2 tsp Dijon or wholegrain mustard
2 tbs extra virgin olive oil
Step 1 To make dressing, combine all ingredients in a screw-top jar. Shake until well combined. Set aside.
Step 2 Heat a char-grill over medium-high heat. Halve nectarines, remove stones and cut into wedges. Spray with oil. Char-grill nectarines for 1-2 minutes on each side or until golden. Transfer to a plate. Spray bread with oil, rub with garlic and char-grill for 1-2 minutes on each side until golden.
Step 3 Place grilled bread onto a board. Top with ham, nectarines and rocket. Drizzle with dressing. Season with salt and pepper and serve.
Good for you ...
Yellow Nectarines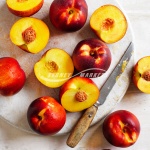 A good source of vitamin C, which contributes to the normal functioning of the body's immune system.
Provide dietary fibre which plays a role in the normal functioning of the body's immune system.
A source of potassium that may help balance the sodium from salt.
The yellow fleshed varieties provide some beta carotene which the body can convert to vitamin A. This vitamin is needed for normal vision.
Nectarines have a low GI (43) meaning their natural sugars are slowly digested and absorbed into the bloodstream.