Char-grilled mango, chilli & lime chicken
Char-grilled mango, chilli & lime chicken
Prep 15 mins + marinating time | Cook 12 mins | Serves 4
8 (about 1.2 kg) free-range chicken thigh fillets, trimmed
2 limes, halved
Steamed jasmine rice, extra coriander leaves and sliced red chilli, to serve
Mango, chilli & lime marinade:
1 ripe mango, peeled and flesh chopped
2 long red chillies, deseeded and chopped
2 garlic cloves
¼ cup lime juice
½ cup coriander leaves
1 tbs olive oil
1 tbs fish sauce
Step 1 To make the mango, chilli & lime marinade, combine all ingredients in a food processor. Season with sea salt and pepper. Process until smooth. Transfer ½ cup of the mango marinade to an airtight container and refrigerate until ready to serve. Transfer the remaining marinade to a shallow ceramic dish or large snap-lock bag. Add chicken and toss to coat in marinade. Refrigerate for 2-3 hours.
Step 2 Preheat a greased char-grill or barbecue on medium heat. Char-grill or barbecue chicken, basting with any remaining marinade occasionally, for 12-15 minutes (depending on thickness) until just cooked through. Transfer to a plate. Char-grill the limes. Serve chicken with the reserved marinade, char-grilled limes, steamed jasmine rice and extra coriander leaves and sliced red chilli.
Good for you ...
Mangoes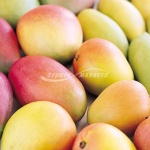 A very good source of vitamin C which contributes to the normal functioning of the body's immune system.
A good source of beta carotene, which the body converts to vitamin A. This vitamin is needed for normal vision. The deeper the colour of the mango flesh, the higher the level of beta carotene. Mango flesh also provides another carotenoid called cryptoxanthin which is being researched for its role in normal eye health.
A source of dietary fibre which is important for the normal function of the intestine.