Char-grilled broccolini with tahini chicken
Char-grilled broccolini with tahini chicken
Prep 20 mins | Cook 15 mins | Serves 4
2 bunches broccolini
2 tbs lime juice
2 tbs olive oil
1 tsp dried chilli flakes
4 small chicken breast fillets
Olive oil cooking spray
½ pomegranate, seeds removed, to serve
1 tbs pomegranate molasses, to serve (optional)
Tahini & lemon dressing:
¼ cup tahini
¼ cup lemon juice
½ cup water
Step 1 Place broccolini into a large bowl. Combine lime juice, olive oil and chilli flakes in a small jug and whisk to combine. Drizzle mixture over broccolini and toss to coat. Set aside.
Step 2 To make dressing, combine all ingredients in a bowl. Season with salt and pepper to taste. Whisk until well combined. Set aside.
Step 3 Preheat a char-grill pan or barbecue over medium-high heat. Spray chicken with oil. Char-grill or barbecue chicken for 5 minutes on each side or until just cooked through. Transfer to a tray, cover and set aside. Char-grill or barbecue broccollini for 2-3 minutes on each side until lightly charred. Set aside.
Step 4 Slice chicken. Arrange broccolini and chicken on a serving platter or plates. Sprinkle with pomegranate seeds. Drizzle with dressing and serve with a splash of pomegranate molasses if liked.
*Pomegranate molasses is thick, slightly sweet and adds a delicious flavour to Middle Eastern-style dishes. It's available from some supermarkets and specialty food shops.
Good for you ...
Broccolini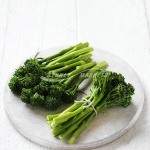 An excellent source of vitamin C, one of the vitamins that contributes to the body's immune function.
A good source of beta carotene, which the body converts to vitamin A. This vitamin is necessary for the structure and function of our skin and also for normal vision.
Provides folate, one the B vitamins needed for normal blood as well as growth and development in children.
A good source of dietary fibre, which is important for maintaining the function of the intestine.