Celeriac remoulade & ways to serve it
Celeriac remoulade & ways to serve it
Preparation 20 mins + chilling time | Makes about 21/2 cups
This delicious dish is the French alternative to coleslaw. The mayonnaise mixture should not be too thick – just enough to cling to the celeriac. If the mixture is too thick, add a little extra lemon juice. It's best served on the day it is made.
1 small (about 550g) celeriac
2½ tbs lemon juice
1/3 cup good quality mayonnaise
2 tbs crème fraîche
3 tsp Dijon mustard
2 tbs finely chopped chives
Step 1 Peel celeriac and slice into very thin strips (a little thinner than a matchstick). Once sliced, immediately toss into a medium bowl with 1 tbs lemon juice (this prevents it from discolouring). Toss to combine and stand for 5 minutes.
Step 2 Meanwhile, combine the remaining 1½ tbs lemon juice, mayonnaise, crème fraîche, mustard and chives in a medium bowl. Season with salt and pepper to taste.
Step 3 Add celeriac mixture to the mayonnaise mixture. Mix until well combined. Cover and refrigerate for 30 minutes for the flavours to develop then serve.
Serving suggestions:
Team with sliced serrano ham or prosciutto on toasted sourdough baguette.
Serve with pan-fried chicken or veal schnitzels.
Serve with crispy skinned pan-fried Atlantic salmon.
Good for you ...
Celeriac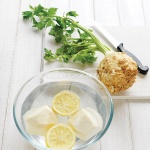 Comes top of the class for its high dietary fibre content. This helps the intestine function normally.
A source of potassium, which can help balance the salt content in our daily diets.
Provides vitamins, including riboflavin (vitamin B2) which contributes to normal skin structure and vitamin C which assists the normal functioning of the immune system.