Celeriac & nashi salad with schnitzels
Celeriac & nashi salad with schnitzels
Prep 30 mins | Cook 8 mins | Serves 4
1⁄3 cup whole egg mayonnaise
1⁄4 cup crème fraîche or sour cream
2 tbs lemon juice
11⁄2 tbs Dijon mustard
1 small (about 450g) celeriac
1 nashi pear
Rice bran oil or olive oil, for pan frying
4 crumbed veal or chicken schnitzels
Mixed salad greens and lemon wedges, to serve
STEP 1 Combine mayonnaise, crème fraîche or sour cream, 1 tbs lemon juice and mustard in a large bowl. Season with salt and pepper.
STEP 2 Add remaining 1 tbs lemon juice to a bowl of cold water. Peel and quarter celeriac and place in lemon water (this prevents browning). Using a shredder, finely shred celeriac, a quarter at a time, and add to mayonnaise mixture. Quarter and core nashi, finely shred the same as the celeriac. Stir nashi through celeriac mixture. Set aside.
STEP 3 Heat oil in a large non-stick frying pan over medium heat. Add schnitzels and cook for 2-4 minutes (depending on thickness) on each side until golden and cooked through. Drain on paper towel. Serve schnitzels with celeriac & nashi salad, mixed salad leaves and lemon wedges.
Good for you ...
Celeriac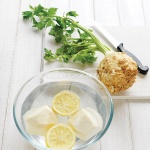 Comes top of the class for its high dietary fibre content. This helps the intestine function normally.
A source of potassium, which can help balance the salt content in our daily diets.
Provides vitamins, including riboflavin (vitamin B2) which contributes to normal skin structure and vitamin C which assists the normal functioning of the immune system.