Cauliflower rice
Prep 15 mins + cooling time | Cook 25 mins | Serves 4-6 as a side dish
1 large cauliflower (untrimmed weight about 1.8kg)
¼ cup olive oil
Olive oil cooking spray
Step 1 Preheat oven to 200°C/180°C fan-forced. Grease 2 large baking trays with baking paper.
Step 2 Trim cauliflower and cut into small florets. Place cauliflower in a single layer on trays. Drizzle with oil and season with salt and pepper. Spray with oil and toss to coat (the extra spray of oil keeps the cauliflower moist). Roast cauliflower for 25-30 minutes or until tender. Set aside to cool slightly.
Step 3 Using a food processor, process cauliflower in batches, until cauliflower resembles rice and serve.
Serve with:
Indian style curries or dahl (instead of rice).
Roasted vegetables, chicken or meats with crumbled feta and/or pomegranate seeds.
As a side dish instead of couscous. Sprinkle with coriander leaves to serve.
Good for you ...
Cauliflower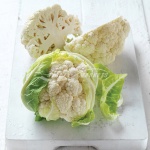 A source of dietary fibre which helps normal functions of the intestine to help keep us regular.
A good source of vitamin K which is one of the many nutrients contributing to normal bone structure.
An excellent source of vitamin C, with 100g supplying well over a full day's requirement. This vitamin contributes to the normal immune function.
A source of folate, a B vitamin that is important for normal blood cells.