Cauliflower mac 'n cheese
Cauliflower mac 'n cheese
Prep 25 mins | Cook 45 mins | Serves 6
4 thick slices day-old wholegrain bread, crusts removed and torn into 2-3cm pieces
2 garlic cloves, crushed
1 tbs chopped thyme
50g butter, melted
1 medium cauliflower, trimmed and cut into medium florets*
1½ cups macaroni pasta
2 cups milk
1 tbs Dijon mustard
2 tbs plain flour
1 cup reduced-fat grated cheddar cheese
½ cup grated parmesan
*You'll need about 650g cauliflower florets.
Step 1 Preheat oven to 180°C fan-forced. Grease a shallow 8-cup ovenproof dish. Combine bread, garlic, thyme and 1 tbs melted butter in a medium bowl. Mix until bread is lightly coated. Set aside.
Step 2 Bring a large saucepan of salted water to the boil. Add cauliflower and macaroni and cook for 8-10 minutes or until pasta is just tender. Drain and return to the pan. Set aside.
Step 3 Meanwhile, to make cheese sauce, add remaining melted butter and mustard to a medium saucepan over medium heat and heat until foaming. Add flour and cook, stirring with a wooden spoon for 1 minute, until bubbling. Remove from heat and gradually add milk, ¼ cup at a time, stirring continuously. Return to heat and simmer, stirring occasionally, for 8-10 minutes or until thickened. Remove from heat and stir in both cheeses.
Step 4 Pour cheese sauce over cauliflower and pasta. Stir to combine. Spoon mixture into prepared dish. Sprinkle top with bread mixture. Bake for 25-30 minutes or until golden. Stand for 5 minutes and serve.
Good for you ...
Cauliflower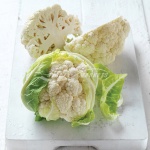 A source of dietary fibre which helps normal functions of the intestine to help keep us regular.
A good source of vitamin K which is one of the many nutrients contributing to normal bone structure.
An excellent source of vitamin C, with 100g supplying well over a full day's requirement. This vitamin contributes to the normal immune function.
A source of folate, a B vitamin that is important for normal blood cells.