Cauliflower & broccoli gratin
Cauliflower & broccoli gratin
Prep 20 mins | Cook 30 mins | Serves 6
This delicious side dish is great for fussy veggie eaters!
1⁄2 medium cauliflower, cut into large florets*
400g broccoli, trimmed and cut into large florets
40g butter
2 tbs plain flour
500ml reduced fat milk
1 cup reduced fat grated tasty cheese
11⁄2 cup coarse fresh breadcrumbs
11⁄2 tbs olive oil
*You'll need about 500g cauliflower florets
STEP 1 Preheat oven to 180°C/160°C fan-forced. Bring a large saucepan of boiling salted water to the boil over high heat. Add cauliflower and cook for 2 minutes. Add broccoli and cook for 2 minutes until almost tender. Drain well. Set vegetables aside. Wipe pan dry with paper towel.
STEP 2 Melt butter in the saucepan over medium heat until foaming. Stir in flour and cook for 1-2 minutes until thick. Remove from heat and gradually whisk in the milk. Bring to the boil, stirring constantly, over medium heat and simmer for 3 minutes. Remove from heat, stir in cheese and season with salt and pepper to taste.
STEP 3 Combine breadcrumbs and oil in a bowl and mix to coat crumbs. Arrange vegetables in a greased 6-cup baking dish. Pour over cheese sauce and sprinkle with breadcrumbs. Bake for 15-20 minutes until golden and bubbling. Stand for 5 minutes then serve.
Good for you ...
Cauliflower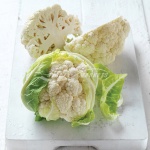 A source of dietary fibre which helps normal functions of the intestine to help keep us regular.
A good source of vitamin K which is one of the many nutrients contributing to normal bone structure.
An excellent source of vitamin C, with 100g supplying well over a full day's requirement. This vitamin contributes to the normal immune function.
A source of folate, a B vitamin that is important for normal blood cells.