Carrot, cabbage & BBQ chicken salad
Carrot, cabbage & BBQ chicken salad
Preparation 25 mins | Serves 4
1/3 cup currants
3 large carrots, thinly shredded lengthways
3 cups thinly sliced Chinese cabbage
1 green onion (shallot), trimmed and thinly sliced
3 cups shredded cooked barbecued chicken
1/3 cup pepitas
¼ cup flat-leaf parsley leaves, chopped
crispy noodles, to serve
Orange & maple dressing:
2 tbs light flavoured extra virgin olive oil
1 tbs orange juice
1 tbs maple syrup
Step 1 Place currants into a teacup, cover with boiling water and stand for 5 minutes until tender. Drain currants and set aside.
Step 2 To make dressing combine ingredients in a screw-top jar. Season with salt and pepper. Shake until well combined.
Step 3 Place carrots into a large bowl. Drizzle with the dressing and toss to coat. Stand for 5 minutes.
Step 4 Add cabbage, green onion, chicken, pepitas, parsley and drained currants to carrots. Toss to combine. Spoon into serving bowls or lunch box containers. Serve with crispy noodles and team with fresh fruit if liked.
*Note, it's quick and easy to shred carrots using a julienne peeler – it's available from kitchen shops. Alternatively use a V-slicer or grater
Good for you ...
Carrots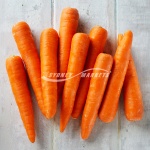 The old saying that carrots help you see in the dark is due to their high content of beta carotene, which the body converts to vitamin A and uses for normal vision.
A good source of vitamin C, one of the vitamins needed for the normal functioning of the immune system.
Provide dietary fibre, whether raw or cooked. Dietary fibre helps keep the intestine healthy.