Caramelised capsicum, tomato & goat's cheese pizzas
Caramelised capsicum, tomato & goat's cheese pizzas
Prep 25 mins | Cook 55 mins | Serves 6
2 yellow capsicums
1 red capsicum
1⁄4 cup olive oil
1⁄2 cup caster sugar
2 tbs white balsamic vinegar
2 fresh pizza bases
2 garlic cloves, finely chopped
250g mini roma tomatoes, halved lengthways
75g Kalamata or black olives
Olive oil cooking spray
100g soft goat's cheese, roughly crumbled
25g baby rocket leaves
Extra virgin olive oil, to serve
STEP 1 Halve capsicums lengthways, remove seeds and cut the flesh into thick strips. Heat 1 tbs oil in a medium frying pan over medium heat. Add capsicums and cook for 4-5 minutes until skin slightly caramelises. Add sugar and 1 tbs vinegar. Stir until sugar dissolves. Reduce heat to medium-low and cook, stirring occasionally, for 40-45 minutes until caramelised. Stir in remaining 1 tbs vinegar. Set aside.
STEP 2 Preheat oven to 220°C/200°C fan-forced. Place pizza bases onto baking trays. Combine remaining 2 tbs oil and garlic in a small bowl. Drizzle garlic mixture over pizza bases. Top with tomatoes and olives. Spray with oil. Bake for 10 minutes until bases are crisp.
STEP 3 Top pizzas with warm caramelised capsicums. Sprinkle with goat's cheese and rocket. Drizzle with extra virgin olive oil, slice and serve.
Good for you ...
Capsicums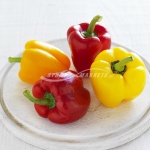 A top source of vitamin C, with just half an average-sized red capsicum supplying 4 times the recommended dietary intake of this important vitamin.
A good source of beta carotene, which the body converts to vitamin A and uses for normal functioning of the immune system.
Provides niacin (vitamin B3), which the body's cells need for the normal release of energy from food.