Caramelised apples with pastries
Caramelised apples with pastries
Preparation 15 mins | Cooking 20 mins | Serves 4
50g butter
2 tbs brown sugar
2 tbs maple syrup
¼ cup currants
6 (about 1kg) Golden Delicious apples, cored, peeled and cut into thin wedges
1 sheet frozen puff pastry
1 free range egg, lightly beaten
Thick Greek style yoghurt or whipped cream, to serve
Step 1 Preheat oven to 220°C/200°C fan-forced. Melt butter in a medium frying pan over medium-low heat. Add sugar and maple syrup and stir for 2-3 minutes until sugar dissolves. Stir in currants and cook for 1 minute.
Step 2 Add apples to pan and cook, stirring often, over medium heat for 8-10 minutes until apples begin to soften. Increase heat to medium-high and cook, stirring occasionally, until apples are tender and caramelised. Set aside to cool slightly.
Step 3 Meanwhile, place pastry onto a clean bench to defrost. Cut into 8 triangles. Place pastry triangles on a baking tray lined with baking paper. Brush with beaten egg and bake for 10-12 minutes or until puffed and golden.
Step 4 Serve caramelised apples with pastry triangles and thick Greek yoghurt or vanilla ice-cream.
Good for you ...
Golden Delicious Apples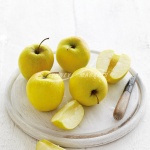 A good source of dietary fibre that helps keep us regular.
Provide vitamin C. Among its many functions, vitamin C contributes to collagen which plays a role in healthy gums, teeth, bones, cartilage and skin.
Low GI (less than 55) which means the natural sugars in apples are slowly digested to glucose