Cabbage & leeks with bacon & pine nuts
Cabbage & leeks with bacon & pine nuts
Prep 20 mins | Cook 15 mins | Serves 4 as a side dish
This delicious side dish is great for fussy veggie eaters!
2 tbs olive oil
250g rindless bacon rashers, chopped
2 medium leeks, trimmed, halved lengthways
and finely sliced
2 garlic cloves, chopped
1⁄2 medium savoy cabbage, trimmed and shredded*
1⁄3 cup dry white wine
1⁄3 cup chicken or vegetable stock
1⁄3 cup toasted pine nuts
1⁄4 cup grated parmesan cheese, to serve
*About 6 cups shredded cabbage is required
STEP 1 Heat oil in a large frying pan over medium heat. Add bacon and cook, stirring occasionally, for 5 minutes until golden. Add leeks and garlic and cook, stirring occasionally, for 4-5 minutes until tender.
STEP 2 Add cabbage to pan and stir to combine over medium heat. Add wine and cook for 1 minute. Stir in stock, cover and cook for 3-4 minutes until cabbage wilts. Stir through pine nuts and season with salt and pepper to taste. Sprinkle with grated parmesan cheese and serve.
Good for you ...
Savoy Cabbage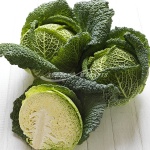 An excellent source of vitamin C, which contributes to the normal functioning of our immune system.
Provides folate, one of the B group vitamins that is needed for normal formation of blood cells.
A source of dietary fibre, which helps the intestine to function normally and keep us regular.
The darker the leaves, the higher the vitamin content.