Byron Bay banana, pineapple & macadamia cake
Byron Bay banana, pineapple & macadamia cake
Prep 30 mins | Cook 1 hr | Makes 16 slices
1½ cups caster sugar
1 cup vegetable oil
2 tsp vanilla
3 free range eggs, lightly beaten
2 cups mashed (very ripe) bananas (approx. 3 large bananas)
1 cup well-drained crushed fresh pineapple (reserve juice for glaze)
1 cup desiccated coconut
¾ cup macadamia nuts, roughly chopped
2 cups plain flour
1 cup coconut flour
1 tsp ground cinnamon
1 tsp bicarbonate of soda
½ cup icing sugar
Step 1 Preheat oven to 180o°C/160°C fan-forced. Line the base and sides of a 23cm (5cm deep) square cake pan with baking paper.
Step 2 Using an electric hand-mixer, whisk sugar, oil, and vanilla into a mixing bowl until well combined. Gradually add eggs, beating after each addition, then beat for 3-4 minutes until mixture is pale and creamy.
Step 3 Using a large metal spoon, stir through banana, pineapple, coconut and macadamia nuts. Mix until just combined. Sift flours, cinnamon and bicarb soda into a bowl. Stir flour mixture into cake batter until just combined.
Step 4 Spoon mixture into prepared cake pan. Smooth top. Bake for 1 hour or until cooked when tested with a skewer in the centre. Stand for 10 minutes in pan then turn onto a wire rack to cool completely.
Step 5 To make pineapple glaze, combine icing sugar and enough of the reserved pineapple juice in a small bowl to make a thin glaze. Drizzle glaze over the cake, slice and serve.
Good for you ...
Pineapple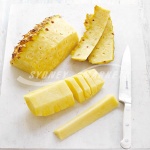 A good source of manganese, a mineral that contributes to the normal formation of bone and connective tissue.
A good source of vitamin C, which contributes to the normal functioning of the body's immune system.
Provides dietary fibre, which helps the intestine function normally.