Button squash with pancetta, garlic & pine nut crumb
Button squash with pancetta, garlic & pine nut crumb
Prep 20 mins | Cook 30 mins | Serves 4 as a side dish
This is a great side dish to serve with meat, chicken or fish.
600g button squash
¼ cup olive oil
75g sliced pancetta, roughly chopped
1/3 cup pine nuts
2 garlic cloves, finely chopped
¾ cup fresh coarse breadcrumbs
1/3 cup flat-leaf parsley leaves, chopped
Step 1 Preheat oven to 200°C fan-forced. Line a baking tray with baking paper. Halve any large button squash. Arrange button squash in a single layer on the baking tray. Drizzle with 2 tbs oil and season with salt and pepper. Toss button squash to coat in oil. Roast, tossing once, for 25-30 minutes until just tender.
Step 2 Meanwhile, heat remaining 1 tbs oil in a medium frying pan over medium heat. Add pancetta and cook, stirring often, for 3-4 minutes until crisp. Add pine nuts, garlic and breadcrumbs. Cook, stirring occasionally, for 4-5 minutes until breadcrumbs are crisp and golden. Toss through parsley. Keep warm.
Step 3 Sprinkle roasted button squash with the crumb mixture and serve.
Good for you ...
Button Squash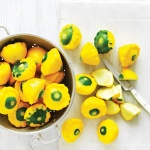 A good source of vitamin C which helps us absorb iron from foods and contributes to the formation of normal collagen in cartilage, teeth, bones, gums and skin.
A source of a carotenoid called cryptoxanthin which is being studied for possible benefits for eye health.