Button mushroom & bacon skewers
Button mushroom & bacon skewers
Prep 20 mins | Cook 5 mins | Makes 8
Serve these skewers as a side dish with barbecued meat, chicken or fish.
300g button mushrooms
250g rindless bacon rashers, cut into 4cm pieces
1⁄4 cup teriyaki sauce
2 tbs sweet chilli sauce
Step 1 Soak 8 x 18cm bamboo skewers in cold water for 10 minutes. Thread mushrooms and bacon alternatively onto skewers. Place in a shallow dish.
Step 2 Combine teriyaki and sweet chilli sauce in a bowl. Drizzle mixture over mushroom skewers. Set aside for 10 minutes, turning occasionally.
Step 3 Preheat a greased barbecue plate or non-stick frying pan over medium heat. Cook skewers, turning often, for 4-5 minutes. Transfer to a plate. Allow to cool for 5 minutes and serve.
Good for you ...
Button Mushrooms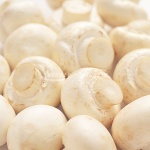 Fresh mushrooms differ from vegetables in that they supply mainly B group vitamins rather than contributing vitamin C and carotenoids (which are converted in the body to vitamin A).
They are a source of riboflavin (vitamin B2) and niacin, both of which contribute to the normal release of energy from food. They are also a source of the B vitamins pantothenic acid and biotin which both contribute to normal metabolism of fat.
A source of selenium, a mineral which contributes to the maintenance of hair and nails and the way the body uses iodine in its production of thyroid hormones.