Butternut pumpkin soup
Prep 20 mins | Cook 50 mins | Serves 4
This delicious soup is so easy to make. The soup thickens on standing, add extra stock if necessary.
2 tbs olive oil
2 brown onion, roughly chopped
2 garlic cloves, finely chopped
1.2 kg butternut pumpkin, peeled, deseeded and chopped*
4 cups chicken or vegetable stock
Natural Greek-style yoghurt or sour cream, to serve
Crusty bread, to serve
*You'll need 850g chopped pumpkin
STEP 1 Heat oil in a large saucepan over medium heat. Add onion and garlic and cook, stirring often, for 5 minutes. Add pumpkin and cook, stirring often, for 5 minutes until it begins to soften.
STEP 2 Add stock, cover and bring to the boil. Reduce heat to medium low and cook, stirring occasionally, for 30-35 minutes until pumpkin is very tender.
STEP 3 Using a hand blender, puree soup until smooth. Season with salt and pepper to taste. Reheat soup until hot. Ladle into bowls, drizzle with yoghurt or sour cream and serve with crusty bread.
Good for you ...
Butternut Pumpkin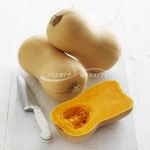 Provides beta carotene, converted to vitamin A in the body and needed for normal vision. The deeper the colour, the higher the content of beta carotene.
A source of vitamin C, which contributes to the normal functioning of the body's immune system.
Provides folate, a B vitamin that is necessary for formation of normal blood cells.