Brussels sprouts with chorizo & hazelnuts
Brussels sprouts with chorizo & hazelnuts
Prep 15 mins | Cook 20 mins | 4 as a side dish
Choose Brussels sprouts no larger than a ping pong ball.
16 small Brussels sprouts, trimmed and quartered
1 chorizo sausage, finely chopped
1 tbs olive oil
1 tbs butter
1 small brown onion, peeled, halved and sliced
1 garlic clove, finely chopped
1⁄4 cup chicken stock
1⁄3 cup roasted hazelnuts, chopped
Step 1 Boil Brussels sprouts in a pan of boiling water for 3 minutes. Drain and refresh in cold water. 
Step 2    Meanwhile, heat a medium non-stick frying pan over medium heat. Add chorizo and cook, stirring often, for 5 minutes. Transfer to a plate.
Step 3    Heat oil and butter in the frying pan over medium heat. Add onion and garlic, and cook, stirring often for 5 minutes or until tender. Add Brussels sprouts and cook, stirring often, for 3 minutes. Add stock, partially cover and simmer for 3 minutes. Stir in chorizo and hazelnuts, season with salt and pepper to taste and serve.
Good for you ...
Brussels Sprouts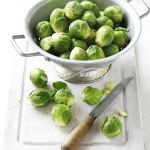 Close to the top of the class for all round nutrition, supplying dietary fibre, potassium and a range of vitamins (beta carotene, C, E and the B vitamins, thiamin (B1), riboflavin (B2), B6, folate and pantothenic acid).
Beta carotene is converted to vitamin A in the body and is important for normal vision while it also contributes to the normal functioning of the immune system – as do vitamins B6, C and folate. Vitamin E helps protect cells from damage due to free radicals.
Vitamins B1, B2, B6 and pantothenic acid are all involved in normal energy metabolism.