Brussels sprouts with chorizo & crispy breadcrumbs
Brussels sprouts with chorizo & crispy breadcrumbs
Prep 15 mins | Cook 15 mins | Serves 4
20 small Brussels sprouts, base trimmed
2 tbs olive oil
1⁄2 cup fresh multi-grain breadcrumbs
1 chorizo sausage, finely diced
1 tbs butter
2 garlic cloves, finely chopped
1⁄4 cup dry white wine
1⁄3 cup chicken stock
Step 1 Plunge sprouts into a saucepan of boiling water and cook for 3 minutes. Drain and refresh in cold water. Cut sprouts into 1⁄2 cm slices. Set aside.
Step 2 Heat 1 tbs oil a large non-stick frying pan over medium-high heat until hot. Add breadcrumbs and cook, stirring often, for 3–4 minutes until golden. Transfer to a plate. Add chorizo to pan and cook, stirring often, for 3 minutes. Transfer to a plate.
Step 3 Add remaining oil and butter to pan and heat over medium heat. Add garlic and sprouts and cook, stirring often, for 2–3 minutes. Add wine and cook for 1 minute. Add stock, cover and bring to the boil, cook until just tender. Toss through chorizo. Season with salt and pepper to taste. Transfer to a serving bowl, sprinkle with breadcrumbs and serve.
Good for you ...
Brussels Sprouts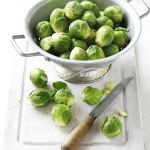 Close to the top of the class for all round nutrition, supplying dietary fibre, potassium and a range of vitamins (beta carotene, C, E and the B vitamins, thiamin (B1), riboflavin (B2), B6, folate and pantothenic acid).
Beta carotene is converted to vitamin A in the body and is important for normal vision while it also contributes to the normal functioning of the immune system – as do vitamins B6, C and folate. Vitamin E helps protect cells from damage due to free radicals.
Vitamins B1, B2, B6 and pantothenic acid are all involved in normal energy metabolism.