Brussels sprout, chia & parmesan fritters
Brussels sprout, chia & parmesan fritters
Prep 25 mins | Cook 15 mins | Makes 10
3 free-range eggs, lightly beaten
1/2 cup self-raising flour
2 tbs black chia seeds
2 green onions (shallots), trimmed and thinly sliced
250g small Brussels sprouts, very thinly sliced
150g carrot, coarsely grated
1/2 cup finely grated parmesan
2 tbs light flavoured extra virgin olive oil, for frying
8 cherry tomatoes
8 balls baby bocconcini
Step 1 Whisk eggs in a bowl. Sift over the flour and whisk until smooth. Stir in chia seeds and stand for 10 minutes. Stir in green onions, Brussels sprouts, carrot and parmesan. Season with salt and pepper to taste. Mix until well combined.
Step 2 Heat 1 tbs oil in a large non-stick frying pan over medium heat. Using ¼ cup mixture per fritter and gently flattening, cook fritters in batches (using 1 tbs oil for the second batch), for 2-3 minutes on each side until golden and crisp. Drain on paper towel and serve.
Step 3 Thread cherry tomatoes and bocconcini onto small wooden skewers. Serve with the fritters.
Good for you ...
Brussels Sprouts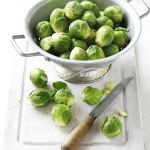 Close to the top of the class for all round nutrition, supplying dietary fibre, potassium and a range of vitamins (beta carotene, C, E and the B vitamins, thiamin (B1), riboflavin (B2), B6, folate and pantothenic acid).
Beta carotene is converted to vitamin A in the body and is important for normal vision while it also contributes to the normal functioning of the immune system – as do vitamins B6, C and folate. Vitamin E helps protect cells from damage due to free radicals.
Vitamins B1, B2, B6 and pantothenic acid are all involved in normal energy metabolism.