Broccolini, tomato & spinach ravioli
Broccolini, tomato & spinach ravioli
Preparation 10 mins | Cooking 15 mins | Serves 4
500g fresh cheese or spinach ravioli
1 tbs olive oil
3 green onions (shallots), trimmed and thinly sliced
2 garlic cloves, finely chopped
1 bunch broccolini, chopped (separate stems)
250g cherry tomatoes, halved
1½ cup tomato pasta sauce
½ cup reduced fat cream
100g baby spinach leaves
Grated parmesan, to serve
Step 1 Cook ravioli following packet directions. Rinse in cold water, drain well and set aside to dry.
Step 2 Heat oil in a large frying pan over medium-high heat. Add green onions, garlic and broccolini stems and cook, stirring often, for 2-3 minutes until just crisp.
Step 3 Add flour, baking powder and cinnamon to banana mixture. Stir with a fork until just combined (don't over mix). Spoon mixture into prepared pan. Scatter with extra oats. Bake for 25-30 minutes until cooked through when tested with a skewer. Stand in pan for 10 minutes then transfer to a wire rack to cool.
Step 4 Add broccolini florets and cherry tomatoes and cook, stirring often, for 3 minutes until tomatoes just soften. Stir in tomato pasta sauce. Cover and bring to the boil over medium heat. Reduce heat, and simmer for 2 minutes. Add ravioli and cook until hot. Stir in cream and spinach. Season with salt and pepper to taste. Toss over low heat until spinach wilts. Sprinkle with parmesan and serve.
Good for you ...
Broccolini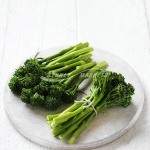 An excellent source of vitamin C, one of the vitamins that contributes to the body's immune function.
A good source of beta carotene, which the body converts to vitamin A. This vitamin is necessary for the structure and function of our skin and also for normal vision.
Provides folate, one the B vitamins needed for normal blood as well as growth and development in children.
A good source of dietary fibre, which is important for maintaining the function of the intestine.