Broccolini & chicken teriyaki noodles
Broccolini & chicken teriyaki noodles
Prep 15 mins | Cook 10 mins | Serves 4
270g dried udon noodles
¼ cup salt-reduced soy sauce
¼ cup mirin
1 tbs sesame oil
2 tsp brown sugar
1 tbs peanut or vegetable oil
500g chicken breast fillets, cut into bite-sized pieces
2 bunches broccolini, trimmed and halved
200g button mushrooms, halved
3 green onions (shallots), trimmed and sliced
2 garlic cloves, crushed
Step 1 Cook the noodles following packet directions. Drain and rinse well. Set aside.
Step 2 To make the stir-fry sauce, combine soy, mirin, sesame oil and sugar in a small jug and whisk to combine. Set aside.
Step 3 Heat oil in a wok over high heat. Add chicken and stir-fry for 3 minutes or until browned. Add broccolini, mushrooms, green onions and garlic. Stir-fry for 2 minutes. Add stir-fry sauce and cook for 4-5 minutes or until chicken is cooked through and serve.
Good for you ...
Broccolini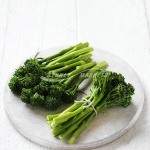 An excellent source of vitamin C, one of the vitamins that contributes to the body's immune function.
A good source of beta carotene, which the body converts to vitamin A. This vitamin is necessary for the structure and function of our skin and also for normal vision.
Provides folate, one the B vitamins needed for normal blood as well as growth and development in children.
A good source of dietary fibre, which is important for maintaining the function of the intestine.