Broccolini & cauliflower fried 'rice' & chicken bowls
Broccolini & cauliflower fried 'rice' & chicken bowls
Prep 30 mins | Cook 20 mins | Serves 4
2 bunches broccolini, roughly chopped
600g cauliflower florets (about ½ large cauliflower)
¼ cup peanut oil
4 free-range eggs, at room temperature
4 long red chillies (leave whole)
400g chicken tenderloins, trimmed and cut into 2cm pieces
3 green onions (shallots), trimmed and thinly sliced + extra to serve
2 garlic cloves, finely chopped
150g green beans, cut into 3cm lengths
2 tbs kecap manis + extra to serve
1 cup trimmed bean sprouts
½ cup coriander leaves
chopped roasted peanuts, to serve
Step 1 Preheat oven to 100°C fan-forced. Using a food processor, pulse broccolini and cauliflower in batches until it resembles rice. Set aside.
Step 2 Heat 1 tbs oil in a wok over high heat. Fry eggs one a time until crisp at the edges and whites are set. Transfer to a tray and keep warm in the oven. Add another 1 tbs oil to wok and fry chillies for 1-2 minutes until crisp. Transfer to the tray and keep warm in the oven.
Step 3 Heat remaining 1 tbs oil in the wok over high heat. Add chicken and stir-fry for 2-3 minutes until white and sealed. Transfer to a plate. Add green onions, garlic and beans to wok and stir-fry for 1 minute. Toss through broccolini and cauliflower 'rice' and stir-fry for 2-3 minutes until just tender. Drizzle with kecap manis and toss to combine.
Step 4 Spoon into serving bowls. Top each with an egg and a fried chilli. Sprinkle with bean sprouts, coriander and extra green onions. Serve with chopped roasted peanuts and extra kecap manis.
Good for you ...
Cauliflower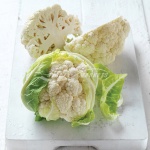 A source of dietary fibre which helps normal functions of the intestine to help keep us regular.
A good source of vitamin K which is one of the many nutrients contributing to normal bone structure.
An excellent source of vitamin C, with 100g supplying well over a full day's requirement. This vitamin contributes to the normal immune function.
A source of folate, a B vitamin that is important for normal blood cells.