Broccoli & cheese oven-baked fritters
Broccoli & cheese oven-baked fritters
Prep 25 mins | Cook 30 mins | Makes 24
500g broccoli, trimmed and cut into small florets*
3 free-range eggs
1 cups grated tasty cheese
1 cup panko breadcrumbs
2 tbs mixed salad seeds
Sweet chilli sauce or tomato sauce, for dipping
*You'll need 350g broccoli florets.
Step 1 Preheat oven to 200°C fan-forced. Cut broccoli into even-sized florets. Boil, steam or microwave broccoli for 2-3 minutes until just tender. Drain, refresh in cold water then set aside on a plate lined with paper towel to dry and slightly cool.
Step 2 Whisk eggs in a large bowl. Finely chop broccoli and stir into eggs. Add cheese, breadcrumbs and seeds. Mix until well combined. Season with salt and pepper to taste. Using your hands, roll the mixture into small balls (about the size of a ping-pong ball). Place onto a baking tray lined with baking paper. Bake for 25-30 minutes until golden. Serve with sweet chilli or tomato sauce for dipping.
Good for you ...
Broccoli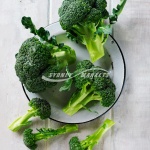 Top of the class for its content of many nutrients, including iron (contributes to red blood cells), potassium (helps balance the sodium from salt) and vitamins, including vitamin C (necessary for normal blood vessel structure and function and contributes to collagen formation in teeth and gums.