Braised leeks with thyme
Prep 20 mins | Cook 25 mins | Serves 4 as a side dish
This delicious side dish is great for fussy veggie eaters!
6 small leeks, trimmed
2 tbs olive oil
50g butter
1⁄2 cup dry white wine
1 cup chicken stock
2 garlic cloves, sliced lengthways
1 bay leaf
6 small sprigs of thyme
STEP 1 Trim the green top off the leeks (discard or add to stock). Then slice the top part of each leek in halve lengthways and fan the layers. Rinse in cold water to remove any soil. Dry leeks dry with paper towel.
STEP 2 Heat oil and butter in a large frying pan over medium heat. Add leeks and cook, tossing for 2 minutes. Add wine and cook for 1 minute. Add stock, garlic, bay leaf and thyme. Stir to combine. Cover and simmer, turning once, over medium-low heat for 15-20 minutes until tender. Season with salt and pepper and serve.
Good for you ...
Leeks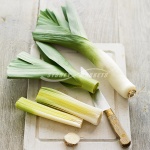 A good source of dietary fibre, which helps with normal laxation.
Provide vitamin C which helps us absorb iron from food.
The green parts of the leek are a source of several members of the carotenoid family, including beta carotene which the body converts to vitamin A.