Braised fennel, lemon & thyme chicken
Braised fennel, lemon & thyme chicken
Prep 15 mins | Cook 35 mins | Serves 4
2 tbs olive oil
8 bone-in chicken thighs
2 medium red onions, sliced
2 medium fennel bulbs, trimmed, halved and thinly sliced (reserve fronds)
½ cup dry white wine
1 cup chicken stock
4-5 sprigs thyme
⅓ cup Kalamata olives
Mashed potato & lemon wedges, to serve
Step 1 Heat 1 tbs oil in a large oven-top casserole or deep frying pan over high heat. Brown chicken in batches until golden. Transfer to a plate.
Step 2 Add remaining 1 tbs oil to pan and heat over medium heat. Add onions and cook, stirring occasionally, for 3-4 minutes until soft. Add fennel and cook, stirring often, for 3 minutes or until just softening. Add wine and cook for 1 minute.
Step 3 Return chicken to the pan. Add stock and thyme. Cover and simmer, stirring occasionally, over medium-low heat for 25-30 minutes or until chicken is just cooked through. Stir in olives. Season with salt and pepper to taste. Sprinkle with reserved fennel fronds. Serve with mashed potato and lemon wedges.
Good for you ...
Fennel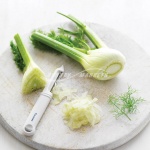 A good source of dietary fibre, which helps the intestine function normally and also vitamin C, a vitamin that contributes to the function of the body's normal immune system.
Has virtually no fat and few kilojoules so is a useful food for those trying to control weight.
A source of potassium.