Braised fennel & tomato with salmon
Braised fennel & tomato with salmon
Prep 20 mins | Cook 50 mins | Serves 4
2 tbs olive oil
1 red onion, halved and thinly sliced
2 medium or 4 baby (about 900g) fennel bulbs,
trimmed & finely sliced (reserve fronds)
2 garlic cloves, crushed
Pinch saffron threads
5 ripe Roma (egg) tomatoes, diced
1 cup fish stock
1 tbs lemon juice
2 tbs tomato paste
4 x 200g thick Atlantic salmon fillets, deboned and skinned
Step 1 Heat oil in a large heavy-based frying pan over medium heat. Add onion and cook, stirring often, for 5 minutes until tender. Add fennel and garlic, and cook, stirring often for 5 minutes or until softening. Meanwhile, soak saffron in 1 tbs warm water for 5 minutes.
Step 2 Add tomatoes, stock, lemon juice, tomato paste and saffron water to fennel mixture. Stir to combine. Season with salt and pepper. Cover and cook, stirring occasionally, over medium-low heat for 25-30 minutes until fennel is tender.
Step 3 Arrange salmon in the pan and spoon over fennel mixture. Cover and cook over medium-low heat for 8-10 minutes or until salmon is just cooked through. Sprinkle with a few reserved fennel fronds and serve.
Good for you ...
Fennel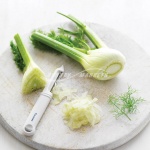 A good source of dietary fibre, which helps the intestine function normally and also vitamin C, a vitamin that contributes to the function of the body's normal immune system.
Has virtually no fat and few kilojoules so is a useful food for those trying to control weight.
A source of potassium.