Blueberry hotcakes
Prep 15 mins | Cook 20 mins | Serves 4
1 cup plain flour
2 tsp baking powder
1⁄2 tsp bicarbonate of soda
Pinch salt
1⁄4 cup caster sugar
2 eggs, separated
11⁄3 cups buttermilk
150g fresh ricotta cheese, crumbled
150g blueberries
Melted butter or margarine, for greasing
Maple syrup and fresh berries and sliced banana, if liked, to serve
Step 1 Preheat oven to 120°C/100°C fan forced. Sift flour, baking powder, bicarbonate of soda and salt into a medium bowl. Stir in sugar.
Step 2 Lightly beat egg yolks and buttermilk in a jug. Using a large metal spoon, stir buttermilk mixture, ricotta and blueberries into dry ingredients until just combined. Whisk egg whites in a clean bowl until soft peaks form. Gently fold egg whites through mixture.
Step 3 Heat a large non-stick frying pan over medium heat. Brush with melted butter or margarine. Using 1⁄4 cup mixture per hotcake, cook the hotcakes in batches, for 2 minutes or until bubbles appear on surface. Turn hotcakes over and cook for a further 2–3 minutes or until pale golden. Keep warm in oven.
Step 4 To serve, stack hotcakes on serving plates, drizzle with maple syrup and serve with fresh fruit if liked.
Good for you ...
Blueberries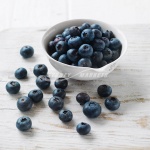 A good source of vitamin C which contributes to the normal functioning of the body's immune system.
Provide vitamin E, an antioxidant vitamin that helps protect cells from damage due to free radicals.
A source of dietary fibre, which is important for the normal functioning of the intestine.
The natural purple pigments are antioxidants and may boost the body's level of these compounds.