Blueberry friands
Prep 20 mins | Cook 30 mins | Serves 8
These friands are best made the day before serving.
175g butter
1 cup ground almonds
12⁄3 cups icing sugar + extra to serve
1 tbs self-raising flour
1⁄3 cup plain flour
5 egg whites (at room temperature), lightly beaten
125g blueberries
Step 1 Preheat oven to 230°C/210°C fan-forced. Line 8 holes of a 1⁄2 cup capacity muffin pan with paper baking cases.
Step 2 Melt butter in a small saucepan over low heat, swirling pan occasionally, for 5-8 minutes until light golden. Remove from heat and set aside to cool.
Step 3 Place almonds into a large bowl. Sift over icing sugar and flour. Stir to combine. Gently fold in egg whites until well combined. Strain the cooled butter into egg white mixture. Using a large metal spoon, stir until combined. Fold through half the blueberries. Spoon mixture into paper baking cases. Top with remaining blueberries. Bake for 5 minutes. Reduce oven to 200°C/180°C and bake for a further 15-20 minutes until golden and firm. Remove and cool slightly. Transfer to a wire rack to cool completely. Serve.
Good for you ...
Blueberries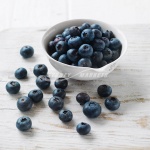 A good source of vitamin C which contributes to the normal functioning of the body's immune system.
Provide vitamin E, an antioxidant vitamin that helps protect cells from damage due to free radicals.
A source of dietary fibre, which is important for the normal functioning of the intestine.
The natural purple pigments are antioxidants and may boost the body's level of these compounds.